Housing market recovery may be shaped like the 'Nike swoosh' according to Marc Da Silva from the Property Eye:


When the Covid-19 pandemic hit earlier this year, many optimistic commentators predicted a classic V-shaped recovery in the housing market, while others went for a U-shaped rebound, where it takes longer to reach the bottom but the recovery is still sharp.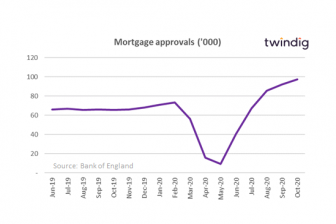 But now, it would seem, the recovery could be shaped more like a Nike swoosh, according to Anthony Codling, CEO of Twindig.
"The V-shaped housing market recovery is starting to look like a Nike swoosh," said Codling.
His comments followed the release of the latest Bank of England data yesterday, which showed that lenders approved the highest number of mortgages in over 13 years in October.
Mortgage approvals for house purchase hit 97,532 in October, up from 92,091 in September.
Net mortgage borrowing remained strong at £4.3bn in October, following borrowing of £4.9bn in September.
"Growth is slowing but mortgage approvals were 51% ahead of the same period last year as the stamp duty holiday fuels the housing market," Codling added.
The increase in buyer demand that has flooded the market in recent months has translated into solid residential property price growth.
Annual house price growth accelerated from 5.8% in October to 6.5% in November, figures from Nationwide showed today.
Property prices increased by 0.9% month-on-month in November after taking account of seasonal effects, following a 0.8% rise in October.
The average house price stood at £229,721 last month.
Codling commented: "House prices have entered the festive period in a party mood spirits are high as house prices increased by 0.9% or £1,895 in November and by 6.5% or £13,897 over the last year."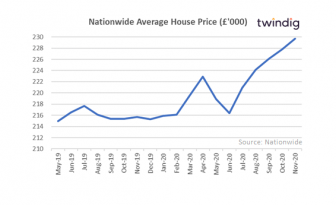 Typically, we expect this time of year to be quieter, but it is emerging "as the busiest pre-Christmas housing market for over a decade" with 100,000 additional sales set to be completed before the end of March 2021, according to David Ross, managing director of Hometrack.
He commented: "Demand from homemovers has remained buoyant through the continued lockdown and the stamp duty holiday and the latest BoE figures confirm this."
Rob Barnard, director of intermediaries at Masthaven, concurred: "[It is] clearly still an incredibly busy time for the housing market. Despite the Covid restrictions, the stamp duty holiday has continued to fuel activity in the market."
Barnard believes that demand from buyers will remain strong as we exit the second national lockdown.
"Many borrowers are still looking to secure lending before the March deadline," he added.

Source : https://propertyindustryeye.com/housing-market-recovery-may-be-shaped-like-the-nike-swoosh/